What Are The Best Ideas For Your Backyard By Concrete Landscape Edging In Vista?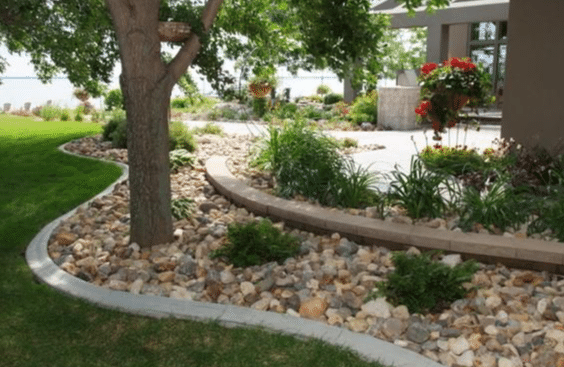 Concrete landscape edging is a great way to add style and structure to your backyard space. Whether you're looking for something modern or traditional, there are many designs available to choose from. Here are seven of the best ideas for how you can use concrete landscape edging in your own backyard space:
Concrete pathway curbing can create a designated walkway through your lawn or garden, and it will help keep grass clippings out of your flower beds. Plus, curved edges and color variations in the concrete curbing can really make it stand out as an eye-catching feature.
Integrate small planter walls into your landscape design with concrete landscape edging. This is a great way to add extra seating in your yard while also creating an attractive focal point.
Add concrete edging around naturally occurring elements such as trees and boulders to frame them better, drawing the eye toward them.
Use concrete landscape edging to section off different areas of your backyard so that it's easier for you to keep track of what needs to be maintained where. For example, use curbing to separate the lawn from the flower beds or create a separate play area for children or pets.
Concrete edging can give your garden beds a modern update by replacing traditional wood or metal edging. It's low-maintenance and will last for years to come.
Create an outdoor gathering spot by incorporating concrete landscape edging into your firepit design. This will help keep everyone safe while helping to contain the flames of the fire.
Use concrete landscape edging as part of an outdoor kitchen setup, such as creating separate zones for grills and seating areas with curbing around them.
FAQ's
What Is Stamped Concrete?
It is a type of concrete that has been imprinted with a desired pattern or texture. This process involves using specialized textured mats and/or stamps to create designs such as tile, stone, or brick in the concrete surface. Stamped concrete is versatile and durable, making it an ideal material for outdoor use.
How Long Does Concrete Landscape Edging Last?
Concrete landscape edging can last up to 15 years if well-maintained and cared for properly. The lifespan of the product depends on factors such as weather conditions and how much weight it's subjected to. Regular sealers will help protect your curbing from cracking or fading due to UV exposure over time.
What Is Decorative Concrete?
It is a term used to describe concrete that has been enhanced with various colors or decorative finishes. This type of concrete can be stamped, stained, engraved, or textured to create custom designs and patterns. Decorative concrete is often used in outdoor spaces such as patios, driveways, walkways, and swimming pool decks.
Conclusion
It is easy to see why concrete landscape edging can be a great addition to any outdoor space. It is versatile, low-maintenance, and offers many design options for your backyard. From creating pathways and built-in seating to accentuating natural features or defining specific areas, there are many ways you can use concrete landscape edging to enhance the look of your yard. For more information, contact Concrete Contractor Vista at (760) 313-6116.