What Are The Tips For Working With A Concrete Contractor In Vista?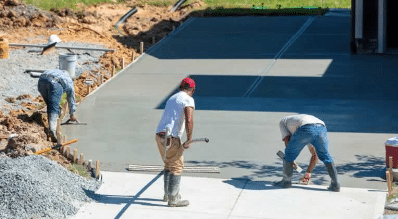 Concrete is a durable and long-lasting building material, making it a popular choice for both commercial and residential construction projects. While concrete is a relatively easy material to work with, there are still a few things you should keep in mind when working with a concrete contractor. Here are some tips for working with a concrete contractor:
Communicate Your Vision Clearly
Make sure you communicate your vision clearly. It's important that you and your contractor are on the same page from the start. Be clear about what you want the final product to look like, and make sure your contractor understands your vision.
Choose The Right Contractor
Not all concrete contractors are created equal. Make sure you choose a contractor with experience and a good reputation. Ask around for recommendations, and check online reviews before making your decision.
Get Everything In Writing
Before work begins, make sure you get everything in writing. This includes the scope of work, the timeline, and the price. This will protect you in case there are any misunderstandings down the road.
Know Your Budget
Be realistic about your budget. Concrete is not a cheap material, so you need to be prepared to spend some money. However, there are ways to cut costs, so talk to your contractor about your budget and see what options are available.
Be Flexible With The Timeline
Concrete projects can take longer than expected, so be prepared for delays. If possible, be flexible with the timeline and give your contractor some breathing room. This will help avoid any frustration on your part if the project takes longer than anticipated.
Understand The Process
Before work begins, make sure you understand the process. This way, you'll know what to expect and won't be surprised by anything that happens. Your contractor should be able to explain the steps involved in the project, so make sure you ask questions if there's anything you're unsure about.
Inspect The Work As It Progresses
As the project progresses, inspect the work regularly. This way, you can catch any problems early on and avoid costly repairs down the road. If you're not happy with something, don't be afraid to speak up. It's better to address problems early on than wait until the project is finished.
Be Patient
Concrete takes time to cure, so be patient. It's important to allow the concrete to cure properly before walking or driving on it. Depending on the weather, this can take anywhere from a few days to a few weeks.
Protect Your Investment
Once the concrete is cured, it's important to protect your investment. This means keeping vehicles off of it whenever possible and avoiding using harsh chemicals or cleaners that could damage the surface. By taking care of your concrete, you can help it last for many years.
Plan For Maintenance
Concrete is a low-maintenance material, but it still needs to be cleaned and sealed on a regular basis. Talk to your contractor about a maintenance plan so you know what needs to be done and when. This will help keep your concrete looking its best for years to come.
Conclusion
Concrete is a great choice for both commercial and residential construction projects. Keep these tips in mind when working with a concrete contractor, and you'll be sure to have a great experience. For more information, contact Concrete Contractor Vista at (760) 313-6116.